Aggretsuko is one of Sanrio latest Furry characters.  She is a cute Red Panda, 25 years old, and a worker at a respected trading firm in Tokyo.   She has to deal with a lot of office politics, a condescending boss, and backstabbing and annoying coworkers.  When she reaches her limit, she lets off steam via death metal singing and karaoke. She is cute but definably not like Hello Kitty.   A Little misinformation if in the media that Aggretsuko is a boozer.   This misinformation came from a screen shot from episode five of Aggretsuko shorts shown on YouTube.   While no English sub existed, I could still get the gist.  In this episode Aggretsuko was at the bosses after work party know in Japanese culture as a Nomikai.  At the party, food and a communal bottle of beer are offered. Nomikai etiquette dictates no glass left empty and you do not fill your glass but you fill the glasses of others also, the lower rank worker serves the upper rank. In this case, the boss set off Aggretsuko by criticizing her for filling his glass with the beer label down. She fantasies insulting and defying the boss   by guzzling the beer in front of him.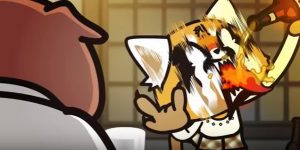 I think it is interesting how Sanrio is marketing Aggretsuko in Japan and the US. Most Sanrio characters start out like Hello Kitty;  first   being marked to the little  Girls, then evolving the market to  include Women and now for Hello Kitty to Men.   In Aggretsuko case, she is marketed straight to adults.  I feel she has a lot of potential worldwide represent the feelings of many over worked individuals and dealing with work place politics.
I spoke to soon  in Episode  50 Aggretsuko get a little tipsy during  a Cherry Blossom outing.