I know I probably should not have done it but I felt I had to replace Big Kitty.  It is my way of saying I not going to let the thief get to me. I did have a dilemma whether to buy this one or the newer 2 foot with harts: big size or smaller. I went with the largest.
The big change will be I will carry my plush with me at all times. I will not drive around with a plush in the passenger seat  very often If I do I will not leave  them in my truck even If I go grocery shopping I go home first or she will go into the shopping cart with me.
Toady my usual Sanrio store had a Cherry Blossom Festival event.  I did get one of the stickers.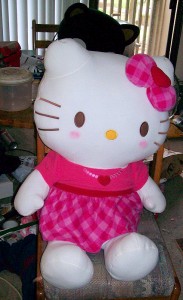 Ps. I know what I am going to spend $230.00 next Christmas season: Monster Kitty.