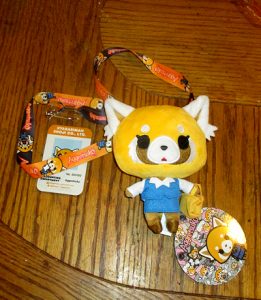 I received a Sanrio gift card form my sister and bought and Aggretsuko plush.
Aggretsuko or Aggressive Retsuko is an adorable anthropomorphic Red Panda created by Sanrio, the same company that brought us cute characters like Hello Kitty, My Melody and Chococat. Sanrio created Aggretsuko in 2015 and was part series of shorts steamed on Sanrio's Japanese YouTube channel and now released as an Anime on Netflix.
Aggretsuko is a 25-year-old single female office worker, Scorpio, Blood type A. She tries to survive her oppressive job in the accounting apartment, with an incompetent and chauvinist boss hog named Ton. Ton often ridicules and harasses her. In addition, Aggretsuko has to deal with other bothersome situations and coworkers, a gossipmonger, and brownnoser. She has a twisted secret side to her; she blows off steam cause by her job and coworkers with Death Metal Karaoke. The show deals with less cute and more about such the plight of Japanese Office ladies, sexism and being a corporate drone. In a way, it the cartoon is Japanese cross between Office Space and Dilbert. While the show deals with Japanese work culture, one does not need to be Japanese or a female to identify with Aggretsuko's plight. Many commentators, media reviewers, and fans have given the show glowing revues.
Aggretsuko and Gudetama, a lazy and lethargic egg, adult like behavior branches from the child like kawaiiness of Hello Kitty and other Sanrio charters. Sanrio is sending a strong message they want to appeal to adult male and female market and not just with Hello Kitty.